Purchasing a Cusco Roll Cage
Buying a roll cage involves a few decisions and based on your requirements there may be quite a bit to choose.
We would like to make your purchase as easy as possible and here are some guidelines.
All of Cusco's Safety 21 and D1 Roll Cages are made-to-order.  They are hand crafted in Japan in our facilities in Gunma Prefecture of Japan near our Headquarters, and delivered by sea and land to reach destinations in the USA.   Because of this process, we do not take returns or exchanges once the cage has reached production stage, unless there is a defect or error on the order.
Especially with regard to racing use, please check with your organization, sanction, and racing governing body to ensure that the design does meet specifications before ordering.
Steps in ordering are as follows.
1. Contact your authorized dealer who is able to fulfill the order, who can assist with the selections, measurements, and placing the order.
2. Check with all requirements and measurements, and place the order.  (Please refer to this guide for some guidelines in selections http://rollcage.cuscousainc.com/cusco-roll-cage-guidebook  )
3. The orders are processed from the dealer to our USA headquarters, and upon verification of feasibility it will be relayed to the factory in Japan
4. There is between 4-8 weeks turn-around time for the roll cage to arrive at your dealer (or a specified drop-off address in the USA)
With regards to popular options such as Harness Bar, and Cross Bar, etc. please measure the required location, height, and seat back clearance.  Also, be sure that the seat can be moved into a position for alternate drivers who might drive with a seat moved further back and allow clearance for this as well.
Prices of Cusco Roll Bar and Accessories
CUSCO ROLL CAGE PRICE (as of April 2016, USA Pricing)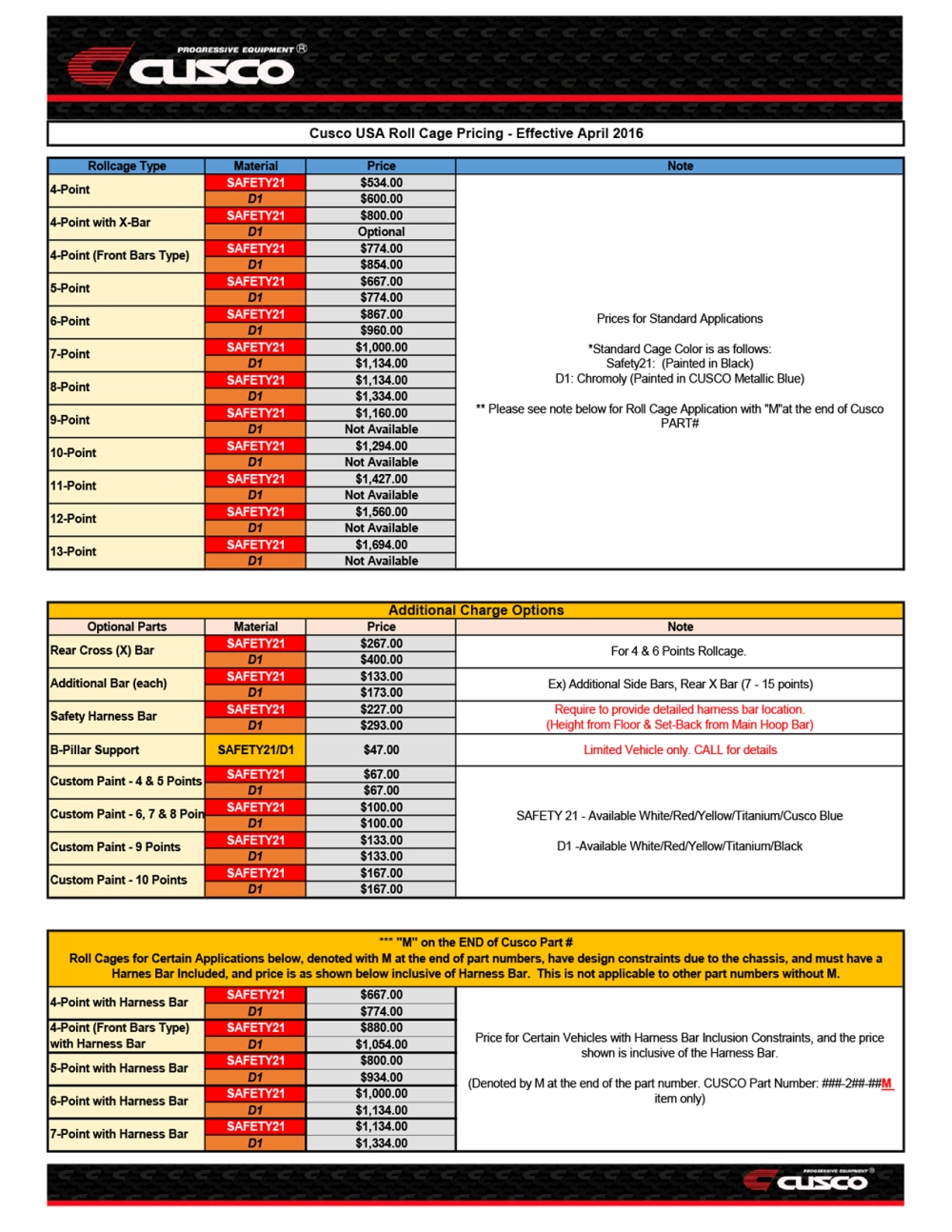 Additonal ACCESSORIES can be found here:
http://www.cuscousainc.com/products/roll-cage/optional-parts.html
For part number research, please refer to our Application List here
Cusco 2016 Roll Cage and Accessories Application List